Exploring the Effective Ventilation Systems in China - HRV vs. ERV
By:admin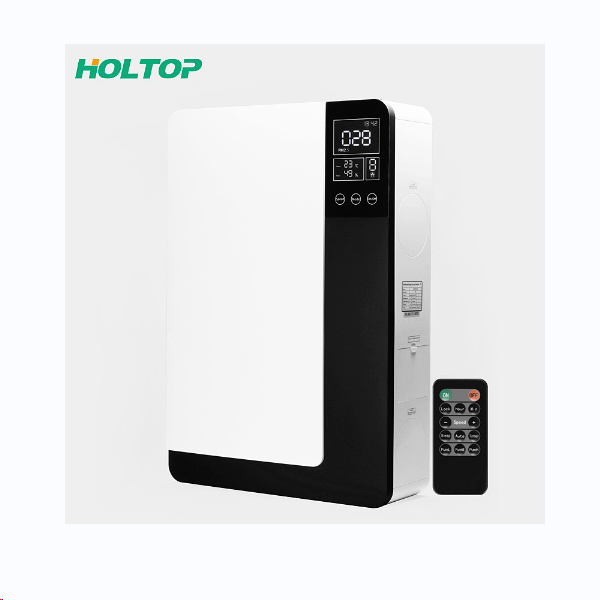 China's Innovative Heat Recovery Ventilation and
Energy Recovery Ventilation
Systems Revolutionizing Indoor Air Quality
China's HVAC industry has witnessed a remarkable breakthrough with the advent of technologically advanced Heat Recovery Ventilation (HRV) and Energy Recovery Ventilation (
ERV
) systems. These systems, commonly referred to as HRV/ERV, play a pivotal role in improving indoor air quality while significantly reducing energy consumption.
HRV systems are designed to remove stale air from enclosed spaces and replace it with fresh air from outside. Simultaneously, they transfer heat from the outgoing air to the incoming air, thus maintaining a comfortable temperature within the building. ERV systems, on the other hand, offer the same benefits as HRV systems, but also transfer humidity and moisture, making them particularly suitable for regions with high humidity or extreme weather conditions.
China's HRV/ERV industry has emerged as a frontrunner in the global market due to a sophisticated blend of advanced technologies and innovative solutions. One prominent company at the forefront of this revolution is as a Chinese manufacturer specializing in HVAC solutions. Henceforth, this article will refer to the company as "Company X".
Company X has a rich history of providing cutting-edge HRV/ERV systems to customers worldwide. With a strong emphasis on research and development, the company has successfully developed a range of HRV/ERV products that deliver superior performance and energy efficiency. By incorporating industry-leading technologies, Company X has solidified its position as a market leader and garnered a reputation for manufacturing high-quality and reliable systems.
One of Company X's noteworthy achievements is its integration of smart technology features into their HRV/ERV systems. These smart systems utilize artificial intelligence and machine learning algorithms to optimize the ventilation process based on indoor and outdoor air quality, occupancy levels, and weather conditions. Through this integration, the systems can dynamically adjust ventilation rates, temperature, and humidity levels to ensure optimal indoor air quality and energy efficiency.
Moreover, Company X's HRV/ERV systems boast state-of-the-art filtration technology. Equipped with highly efficient filters, these systems effectively remove pollutants, allergens, and other harmful substances from the incoming air. This not only enhances indoor air quality but also contributes to the overall health and well-being of occupants.
Furthermore, Company X's commitment to sustainability and energy conservation is evident in its HRV/ERV systems. By recovering up to 90% of the thermal energy from the exhaust air, these systems significantly reduce the heating and cooling loads, resulting in substantial energy savings. This energy-efficient operation not only benefits the environment by reducing carbon emissions but also leads to cost savings for consumers in the long run.
In addition to their advanced technological features, Company X's HRV/ERV systems are designed with a focus on user convenience and ease of installation. The systems are compact, ensuring easy integration into various building infrastructures, making them suitable for both retrofitting projects and new constructions. Additionally, the systems incorporate user-friendly interfaces and intuitive controls, allowing for seamless operation and maintenance.
The success of Company X's HRV/ERV systems can be attributed to the concerted efforts of its highly skilled research and development team. Company X continuously invests in research and collaboration with leading institutions and experts to further enhance the performance, efficiency, and sustainability of their products. This commitment to innovation has positioned Company X as a trailblazer in the HRV/ERV industry.
China's HRV/ERV systems have not only revolutionized indoor air quality but have also catalyzed the country's ongoing efforts to build sustainable and energy-efficient cities. With their industry-leading technologies, Company X and other Chinese manufacturers are playing a crucial role in transforming the HVAC landscape and creating healthier living and working environments for millions of people worldwide.