HVAC technology advancements from global electronics company
By:admin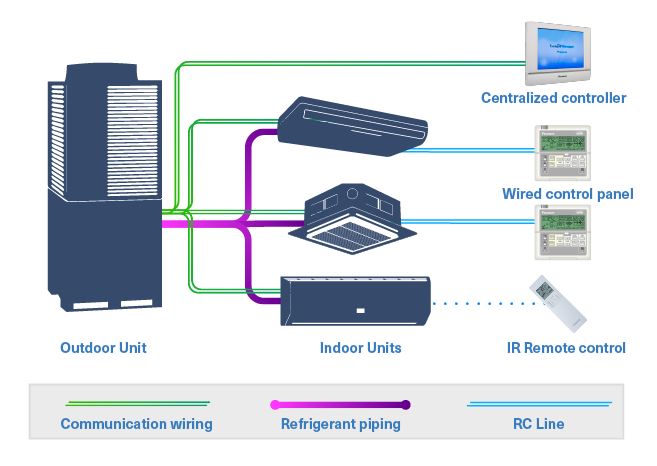 An Introduction to VRF Air Conditioners: Enhancing Comfort and Efficiency

As the climate changes, the need for reliable and energy-efficient air conditioning systems increases. Among various options available, Variable Refrigerant Flow (VRF) air conditioners have emerged as a popular choice for both residential and commercial applications. This blog will introduce the fundamentals of VRF air conditioners, their benefits and drawbacks, and some examples of how they can be used to enhance indoor comfort and sustainability.

What is VRF Air Conditioning?

Also known as Variable Refrigerant Volume (VRV) in some regions, VRF is a type of air conditioning system that uses a refrigerant to cool or heat indoor spaces. Unlike conventional systems that use ducts and air handlers to distribute air, VRF uses small refrigerant pipes and indoor units that can be installed in each room or area. The refrigerant can be adjusted to match the cooling or heating demands of each zone, using sensors, thermostats, or controls that communicate with the outdoor unit.

What are the Benefits of VRF Air Conditioners?

One of the main advantages of VRF air conditioners is their flexibility and zoning capabilities. With VRF, each indoor unit can operate independently, allowing for precise temperature control and ensuring individual comfort preferences. This can also help reduce energy consumption by avoiding overcooling or overheating areas that do not need it. Moreover, VRF systems can use heat recovery, which means that they can extract heat from one area while supplying cooling to another, making them efficient in terms of energy use.

Another benefit of VRF air conditioners is their compact size and ease of installation. Compared to traditional ducted systems, VRF requires less space for the refrigerant pipes and can avoid the need for bulky air distribution units. This can be particularly useful for retrofitting existing buildings or for applications where space is limited. In addition, VRF systems are often quieter than central systems, as they use smaller and more advanced compressors and fans.

Furthermore, VRF air conditioners can offer improved indoor air quality, as they can filter and dehumidify the air as it passes through the indoor units. This can reduce the risk of mold growth or allergens in the air, providing a healthier and more comfortable environment for occupants. Some VRF systems can also integrate with smart controls and monitoring systems, allowing for remote access and customization of settings.

What are the Drawbacks of VRF Air Conditioners?

Despite their benefits, VRF air conditioners may not be suitable for all situations or preferences. One of the main concerns for some users is the cost, as VRF systems can be more expensive than traditional systems, especially for smaller installations or for those that require custom designs. In addition, some users may find the indoor units less aesthetically pleasing or intrusive, especially if they are mounted on the walls or ceilings.

Moreover, VRF air conditioning relies on refrigerants, which can have negative environmental impacts if they leak or are not properly managed. While new VRF systems use less harmful refrigerants than older models, it is essential to follow proper installation, maintenance, and disposal procedures to prevent any leaks or emissions. Additionally, if the outdoor unit is located close to residences or public areas, it may generate noise or vibration that can disturb nearby occupants.

How are VRF Air Conditioners Used?

VRF air conditioners are versatile and can be used in various settings, from homes to offices, hospitals, hotels, and retail spaces. Some examples of how VRF air conditioners can enhance indoor comfort and sustainability include:

- Residential buildings: VRF air conditioners can provide zoned heating and cooling for each room or apartment, avoiding energy waste and ensuring personalized comfort. They can also help reduce energy bills and greenhouse gas emissions, especially if paired with renewable energy sources.
- Commercial buildings: VRF air conditioners can be used in large or small buildings, providing efficient and quiet cooling and heating. They can be customized to match the design and usage needs of each space, allowing for flexibility and control. In addition, they can help improve indoor air quality and reduce maintenance costs.
- Hospitality buildings: VRF air conditioners can help hotels or resorts provide superior guest experiences by providing room-by-room control and comfort. They can also reduce energy spend and operational costs, while improving the sustainability credentials of the property.
- Healthcare and educational buildings: VRF air conditioners can benefit hospitals, schools, or universities by providing a healthy, comfortable and energy-efficient learning or healing environment. They can reduce the transmission of airborne pathogens, maintain stable temperature and humidity levels, and lower the risk of allergies or asthma.
- Retail and commercial facilities: VRF air conditioners can help businesses reduce their carbon footprint and operating costs, while also attracting customers with a comfortable and clean shopping experience. They can be used for product cooling, ventilation, and heating, and can be incorporated into the building design without compromising aesthetics.

Conclusion

VRF air conditioners are a powerful and efficient technology that can enhance indoor comfort and sustainability. As the world faces more extreme weather conditions, air conditioning will continue to be a critical factor in providing safe and healthy indoor environments. VRF provides an opportunity for homeowners, businesses, and property managers to rely on better and smarter cooling and heating solutions that match their needs and preferences. What is VRF air conditioning? It is the future of comfort and efficiency.