HOLTOP MODULAR AIR COOLED CHILLER(AIR SOURCE HEAT PUMP)

Holtop Modular Air Cooled Chillers are our latest product based on over twenty years of research & development, technology accumulation and manufacturing experience which helped us to develop chillers with stable & reliable performance, greatly improved evaporator & condenser heat transfer efficiency. In this way it's the best choice to save energy, protect environment and achieve comfortable air conditioning system.

Holtop Modular Air Cooled Chiller can widely used in hotels, hospitals, shopping malls, office buildings, cinemas, metal industry, oil & chemical industry, manufacturing industry, electronics industry, electric power stations etc.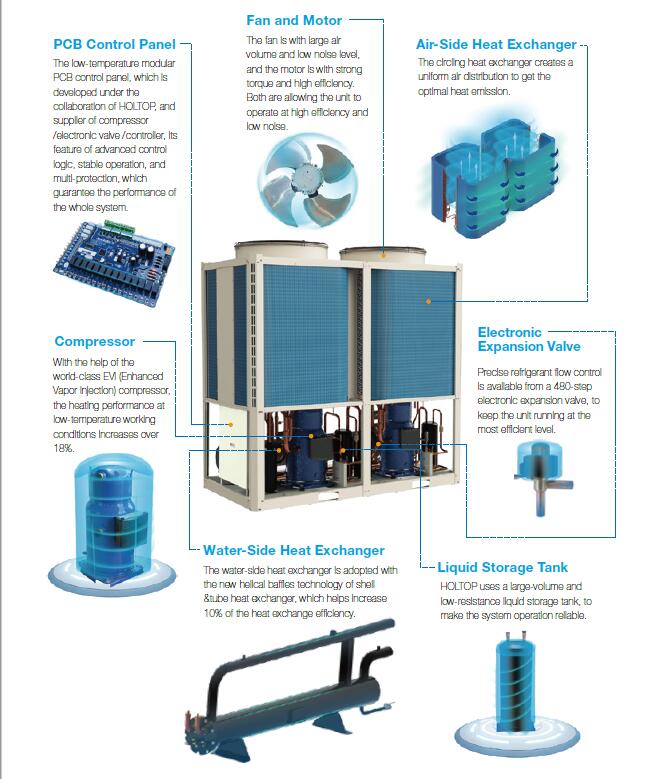 Product Feature
1. Integrated Protection:
Designing more than 10 safety protection functions, which can ensure chiller unit and the system operation in all-round protection. The unit can be controlled through a multi-variable monitoring system to ensure the unit with stable and efficient operation.

2. Wide Temperature Range of Application, Worry-free of Operation:
Chiller unit is suitable for operation in a wide outdoor temperature range, from -20C~48℃.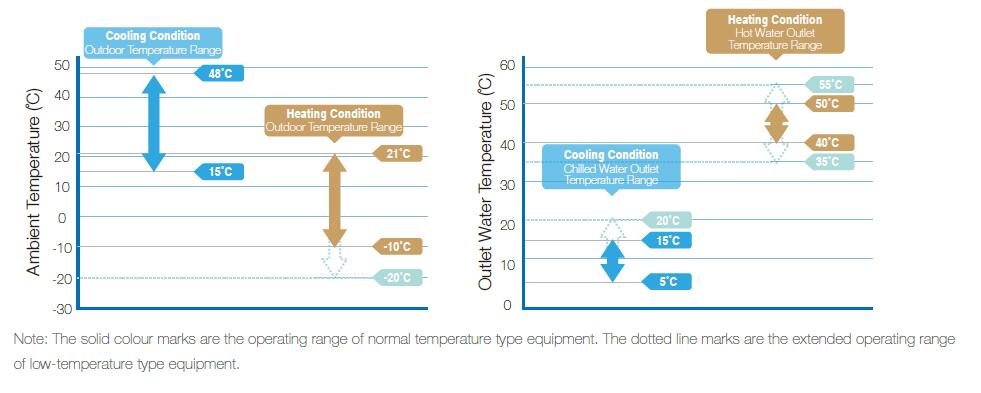 3. Chiller Unit Operation When Has Fault:
A single unit is designed with multiple compressors. When one of the compressors fails, the rest of the compressors in the system can still operate normally without affecting the operation of the whole system.

4. Modular Combination:
The chiller adopts modular combination design and does not need to set the master or sub-master unit. Each combination is able to connect a maximum of 16 units, even they are made of different models, to meet the variable demands of different buildings.

5. Step Starting:
Starting all units in steps, in order to lower the starting current, reduce the shock to power grid, and avoid affecting the security of other electrical equipment.

6. Flexible Application:
Investment: Add extra units into combination at any time, convenient for multiple stages of investment
Transportation: The volume of each unit is compact, can be transported individually, does not need a crane at the project site, can save transportation cost.
Installation: Does not need machine room or cooled water system, only somewhere with good ventilation. The water pipes are designed on side of the unit, which can be easy for chilled water connection and save installation space.
System: At the water circulating system, besides the standard use of the constant flow system, it is optional to use the primary pump with a variable flow system, and the variable speed control cabinet is optional to select.
7. Smart Defrosting System:
By sensing with the multi-variables system to have accurate judgement on the situation of frosting, the chiller itself can be able to choose the best time to enter or exit defrosting, to avoid insufficient defrosting or over defrosting. In a duplex system, the units can achieve alternate defrosting. When heating under extreme low-temperature conditions, setting manual defrosting for better performance.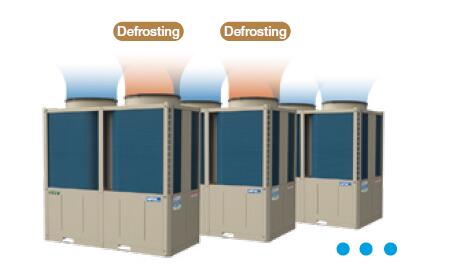 8. Intelligent PLC Control System:
The PLC control system combines the simplicity and convenience of the wired control system and the advantages of the centralized group control system to achieve chiller group centralized control. One PLC control system can manage 1 to 8 groups. Each group can control 1 to 16 pieces of modular chillers. The system can control up to 128 modular chillers. The control system also delivers various features such as group mode switching, temperature adjustment, on/off control, etc to adopt numerous applications.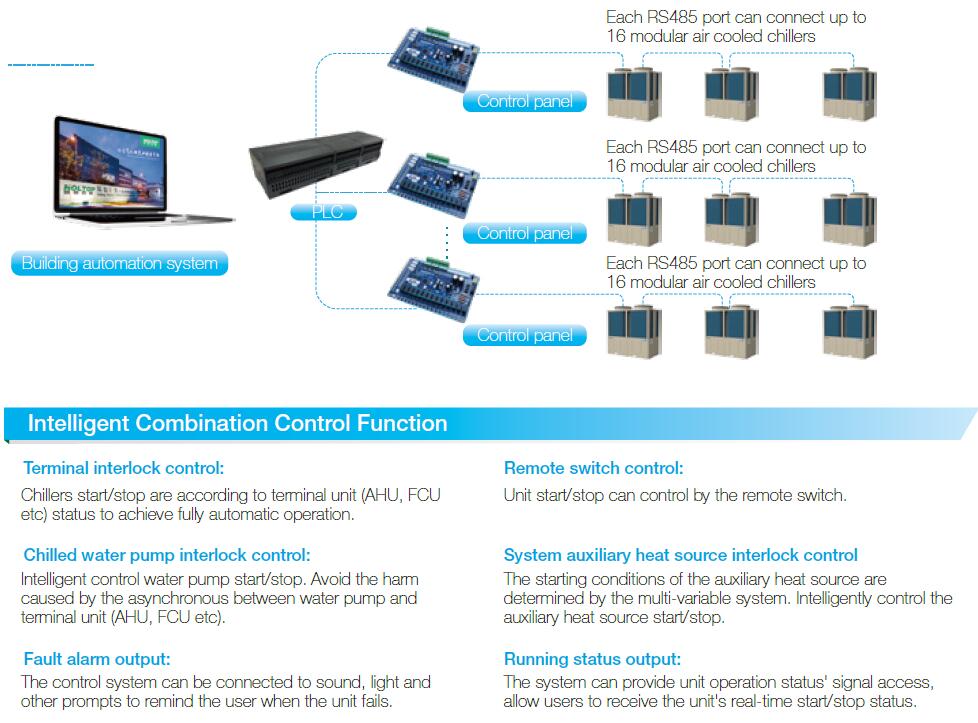 9. Free Access to Building Automation System:
Standard RS485 building communication interface comes with open access to standard ModBus communication protocol. The device can be easily connected to the building control system (BAS) for centralized control, easy to achieve intelligent control, avoid unnecessary energy waste, and save air-conditioning operating costs.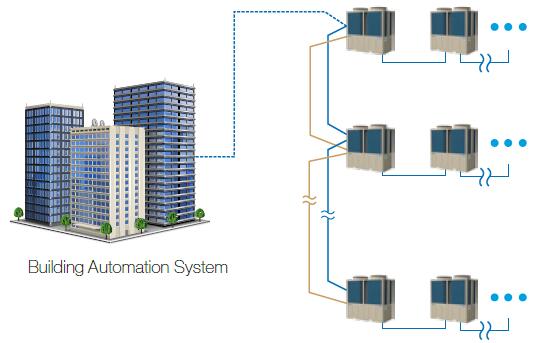 Holtop Modular Air Cooled Chiller Parameters:
PRODUCT PARAMETER

Model/Specification

HFW-65HA1

HFW-65HA1-L

HFW-130HA1

HFW-130HA1-L

Normal temperature type

Low-temperature type

Normal temperature type

Low-temperature type

Nominal cooling capacity(KW)

65

63

130

130

Nominal heating capacity(KW)

71

71

142

141

Cooling

Rated total input power(KW)

19.5

18.7

39

37.7

Heating

Rated total input power(KW)

21

19.5

42

38.8

Nominal low-temperature cooling capacity(KW)

/

52

/

100

Total nominal low-temperature heating input power(KW)

/

18.6

/

37

Voltage

380V/3N~/50Hz

Refrigerant

R410A

Throttle parts

Electronic expansion valve

Compressor

Type

Hermetic scroll

Qty

2

Fan

Type

Axial low noise fan

Power(kw)

0.9*2

1.5*2

Airside heat exchanger

Airflow(m³/h)

14000*2

19500*2

Type

High-efficient finned heat exchange

Waterside heat exchanger

Nominal water flow(m³/h)

11.5

11.5

22.5

22.5

Type

High-efficient shell&tube heat exchanger

Water pressure drop(kPa)

30

40

Water inlet/outlet connection pipe

DN50

DN65

Dimension(W*H*D)

1810*960*2350

2011*1100*2300

Net weight(kg)

580

600

1000

1050