Holtop DC Motor Slim Series Residential Suspended Heat Energy Recovery Ventilation system ERV units

Energy recovery ventilation (ERV) is the energy recovery process of exchanging the energy contained in normally exhausted building or space air and using it to treat (precondition) the incoming outdoor ventilation air in residential and commercial HVAC systems. During the warmer seasons, the system pre-cools and dehumidifies while humidifying and pre-heating in the cooler seasons. The benefit of using energy recovery is the ability to meet the ASHRAE ventilation & energy standards, while improving indoor air quality and reducing total HVAC equipment capacity.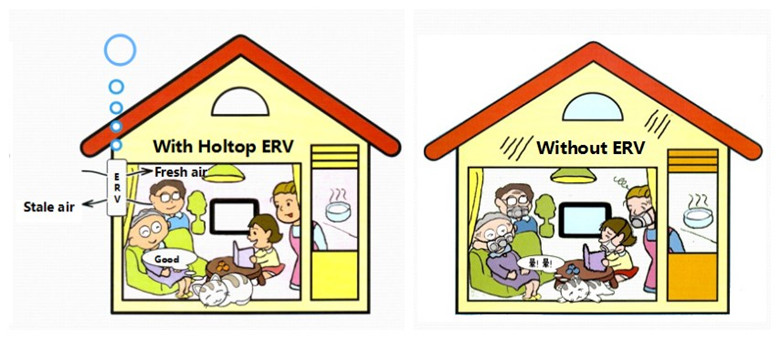 Holtop Slim Design Residential Projects Suspended Heat Energy Recovery Ventilation system unit is built in energy saving BLDC motor, F9 filter optional, high efficiency enthalpy heat exchanger.
Ideal fresh air heat recuperative ventilation solution for residential HVAC projects.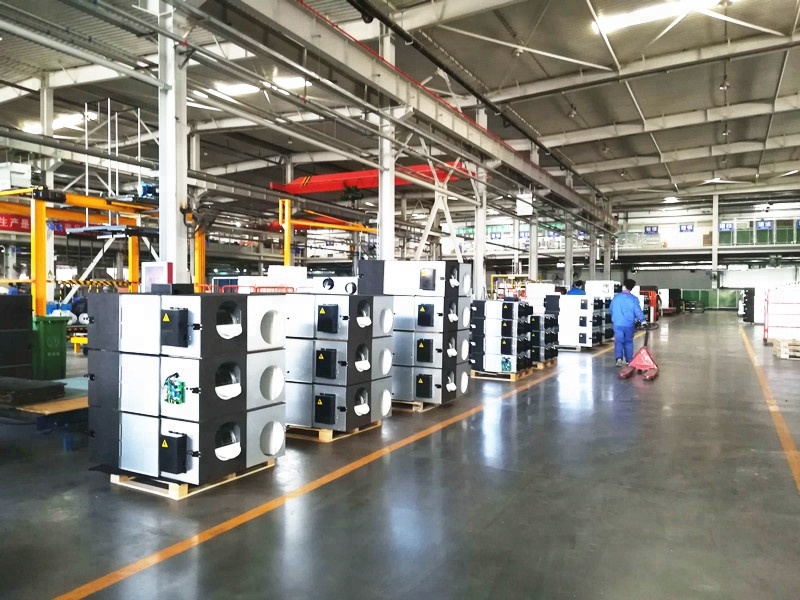 Fresh air ventilation+ Energy recovery+ Optional F9 filter air purification
, reducing running cost of cooling or heating system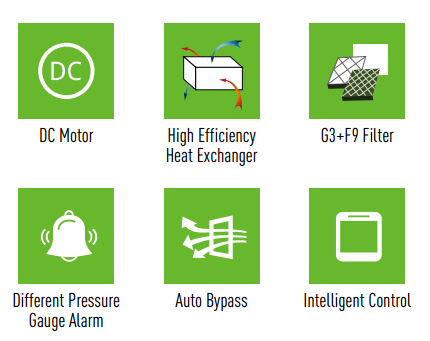 1)Energy saving BLDC motor, 10 speeds control
2)High eficiency enthalpy heat recovery, more comfortable indoor climate
3) G3+F9 filter, eficiency over 96% to filter the particulate from 2.5µm to 10µm
5)Double filter alarm, timer alarm or diferent pressure gauge alarm available
6) Auto bypass, intelligent controlled by outdoor temperature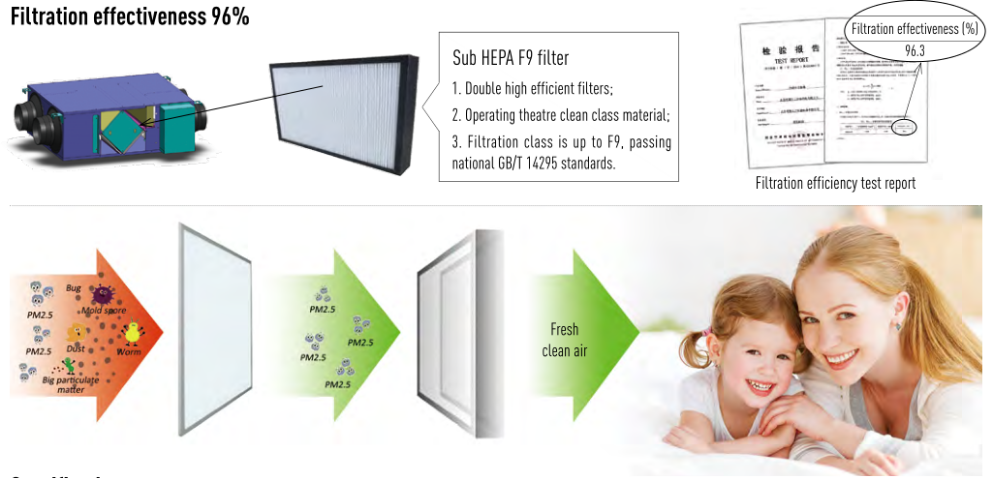 4) Intelligent control system, optional CO 2 and humidity control function, external control and BMS control available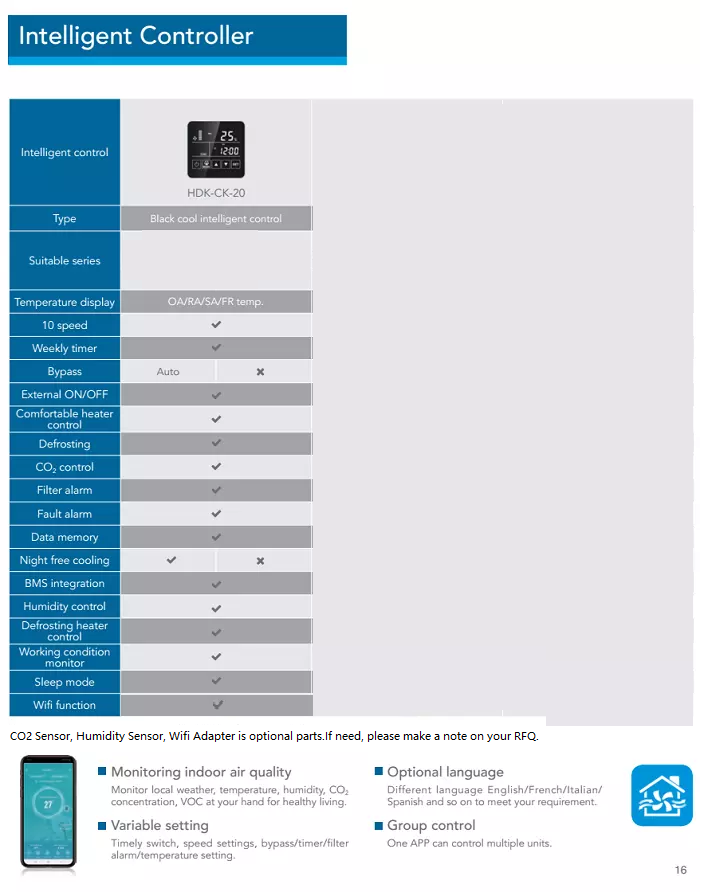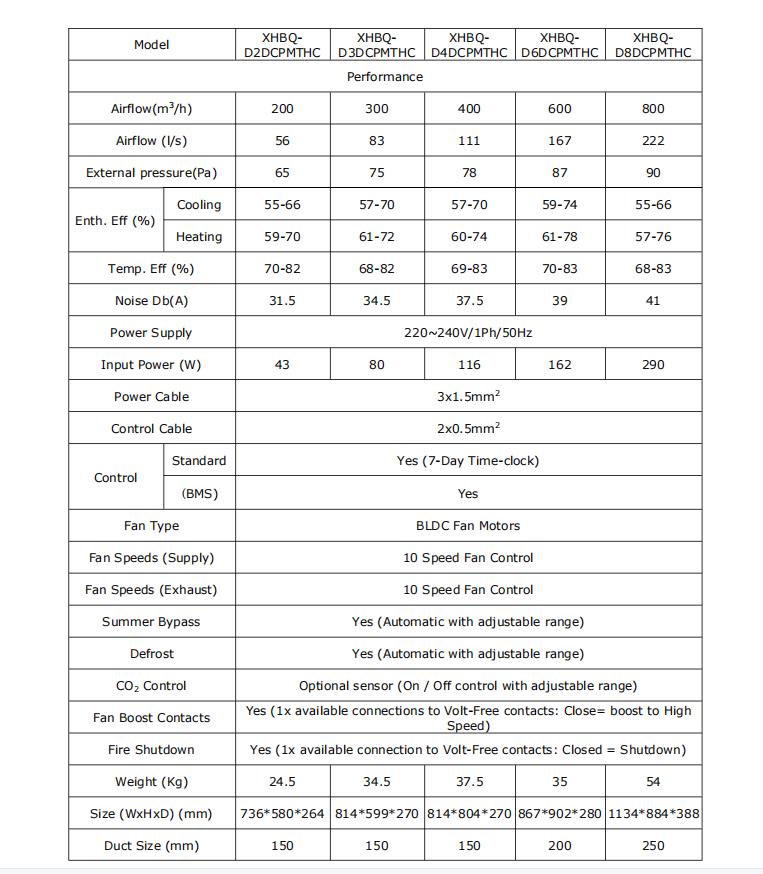 Selection Guide
1. Choose the proper installation types based on the building structure 2. Determine the fresh airflow required according to the use, size and number of persons 3. Select the right specifications and quantity according to the determined fresh airflow

Example The area of a computer room is 60 sq. meters (S=60), the net height is 3 meters (H=3), and there are 10 per-sons (N=10) in it. If it is calculated according to "Personal fresh air consumption", and assume that: Q=70, the result is Q1 =N*Q=10*70=700(m3/h) If it is calculated according to "Air changes per hour", and assume that: P=5, the result is Q2 =P*S*H=5*60*3=900(m3) Since Q2 > Q1 , Q2 is better for selecting the unit. As to special industry such as hospitals (surgery and the special nursing rooms), labs, workshops, airflow re-quired should be determined in conformity with regulations concerned.
Installation: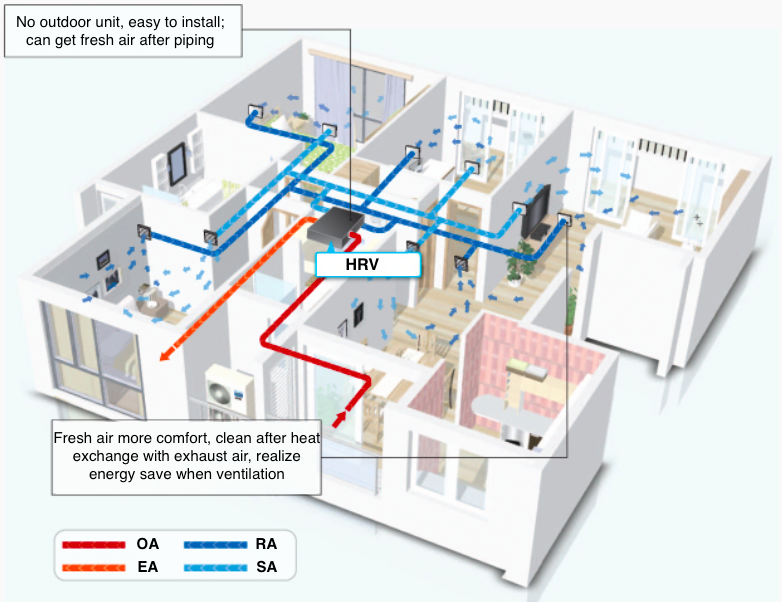 Company Information
Holtop Factory
Holtop is one of the best manufacturer in ERV/HRV, heat exchanger and AHU area in China, founded in 2002, areas covered more than 30,000 square meters, turnover of 2012 is 42 million dollars, we have enthalpy testing lab. for products test. As a leader in energy/heat recovery equipments, we cooperate with more than 30 famous companies who located in Europe, the Middle east, Korea, Southeast Asia, Taiwan, etc. supplied equipment to Beijing Olympic and Shanghai Expo 2010, works together with domestic and international brands like Midea, Haier, Hitachi, etc.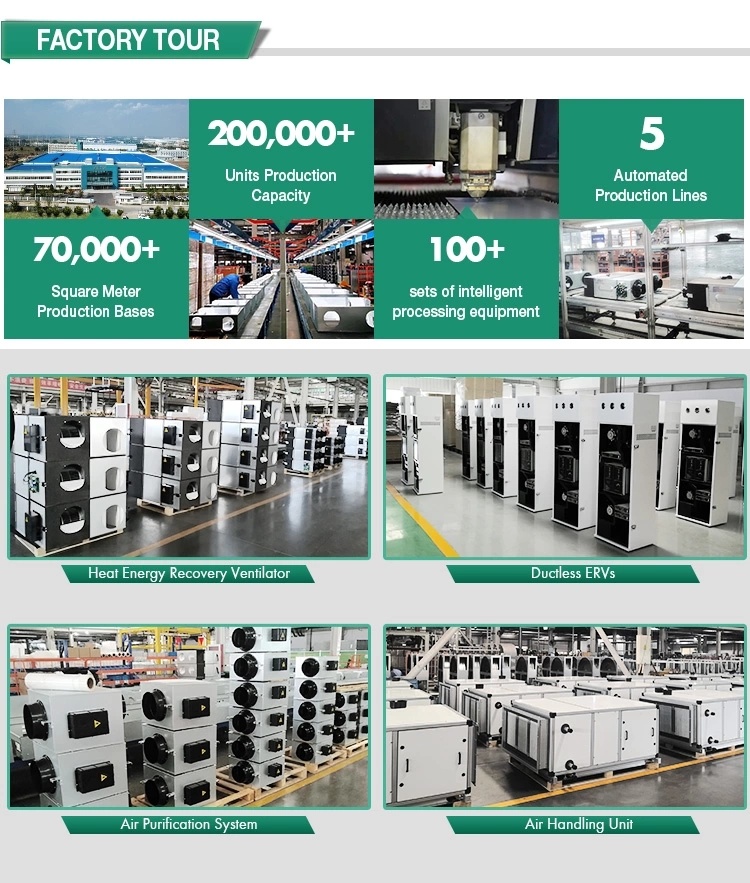 Holtop partner
Holtop cooperate with world famous brand or offer OEM service including Hitachi, LG, McQuay, TRANE, Systemair, Aldes, York, Haier, Gree, MHI Group, Midea, Carrier, Dunham-Bush, etc.

Holtop products stand for TOP quality in heat recovery ventilation filed in China, certificated by CE, Eurovent, ISO and other different approved tests like anti-flaming test, anti-mold test, energy saving product test. Etc.