HOLTOP Single Room Ductless Wall Mounted Type Heat Recovery Ventilator ERV/HRV with CERAMIC ENERGY REGENERATOR

Single Room Wall HRV ERV Heat / Energy Recovery Ventilator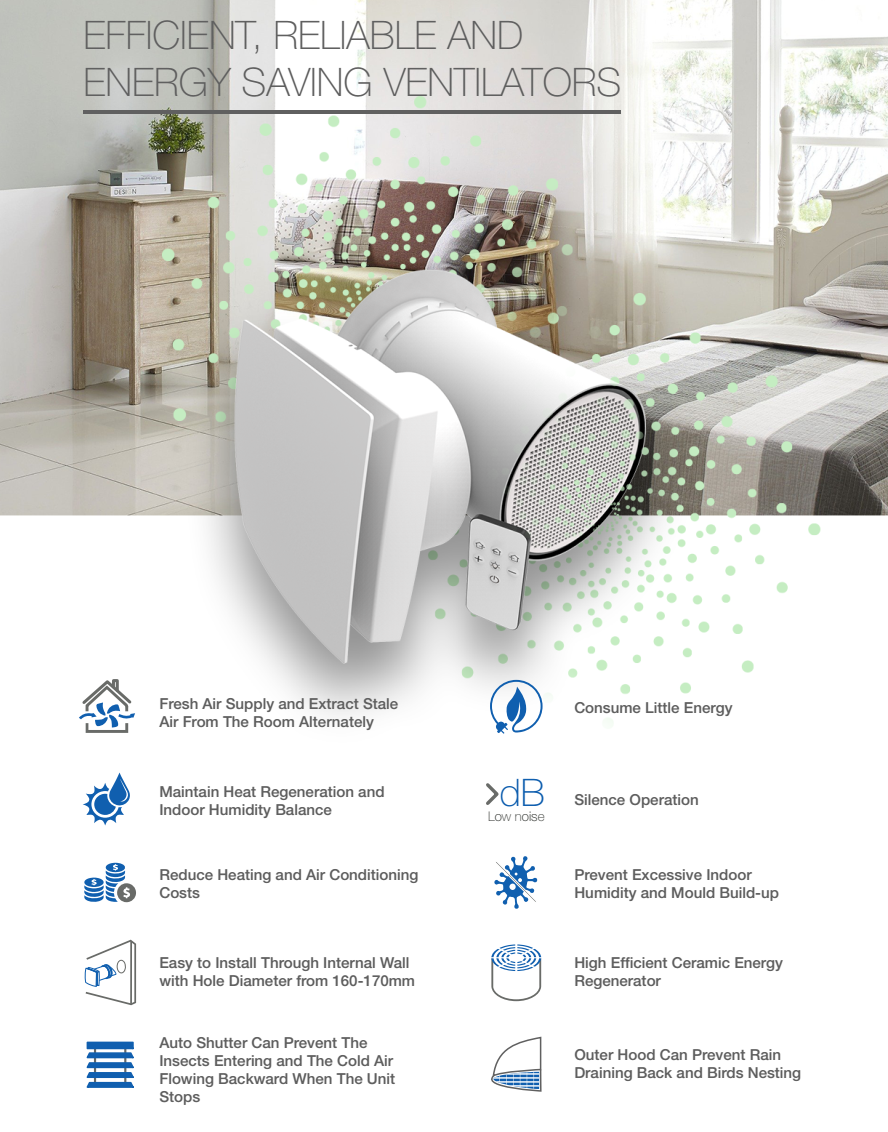 CERAMIC ENERGY REGENERATOR The high-tech ceramic energy accumulator with regeneration efficiency up to 97 % ensures extract air heat recovery for warming of supply air flow. Due to the cellular structure the unique regenerator has a large air contact surface and high heat-conducting and heat-accumulating properties. The ceramic regenerator is treated with an antibacterial composition which prevents bacteria growth inside of the energy regenerator. The antibacterial properties last for 10 years. AIR FILTERS The two integrated air filters with total filtration rate G3 provide supply and extract air filtration. The filters prevent ingress of dust and insects into the supply air and contamination of the ventilator parts. The filters also have antibacterial treatment. The filter cleaning is done with a vacuum cleaner or water flushing. The antibacterial solution is not removed. F8 filter is available as a specially ordered accessory, but when installed, it reduces the air flow down to 40 m 3 /h. REVERSIBLE DC-FAN The reversible axial fan with a DC motor and power supply voltage of 12 V serves for air supply and exhaust. Due to the applied DC technology the fan is featured with low power consumption. The fan motor has integrated thermal overheating protection and ball bearings for long service life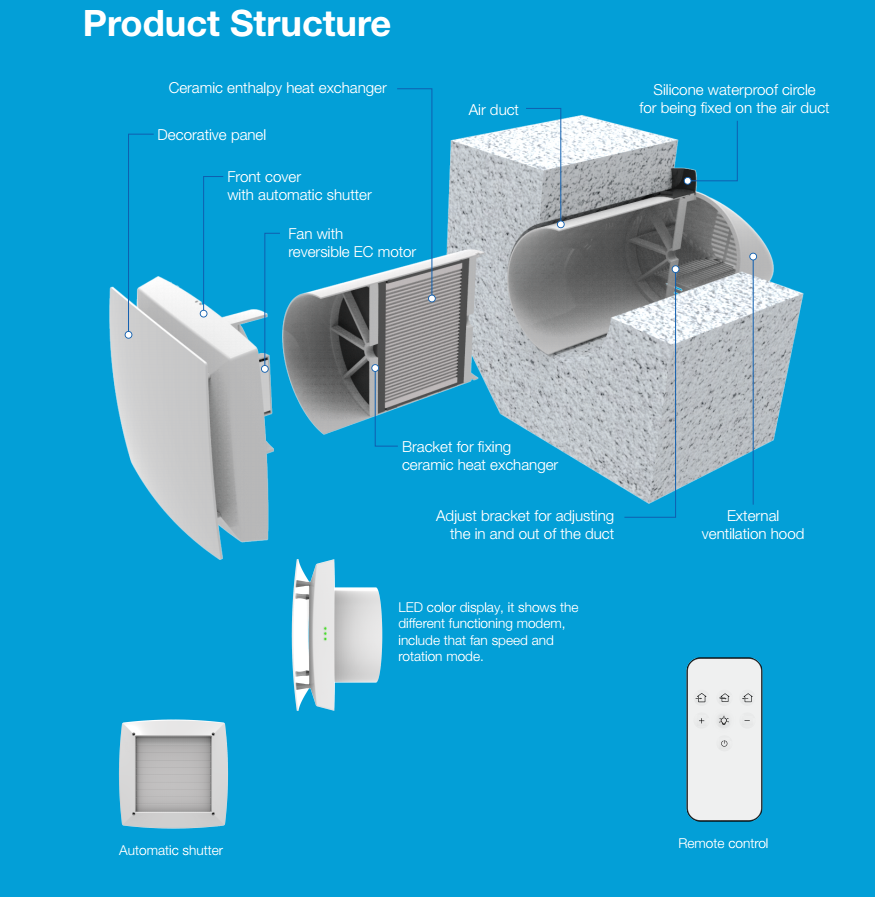 Operation Modes Ventilation Mode: The ventilator runs in the air extract or air supply mode with a set speed. In case of synchronous operation of two connected ventilators one unit operates in the supply mode and the other one in the extract mode. Regeneration Mode: The ventilator runs in two cycles,65 seconds each, to provide heat and moisture regeneration.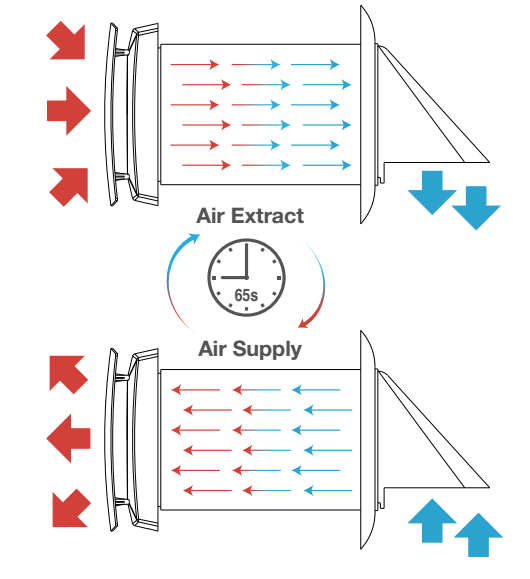 Working Principle The reversible operation of the ventilator enables energy regeneration and consists of two cycles: CYCLE I The polluted warm air is extracted from the room and while passing the ceramic energy regenerator, the recuperator will absorb the heat and moisture. In 65 seconds, as the energy regenerator gets warmed, the ventilator automatically switches to the supply mode. CYCLE II The fresh, but cold outdoor air flows through the heat regenerator and absorbs the accumulated heat and moisture so that the temperature of supply air flow will close to the room temperature. In 65 seconds, when the energy regenerator gets cold, the ventilator switches to the air extract mode. The cycle starts from the beginning.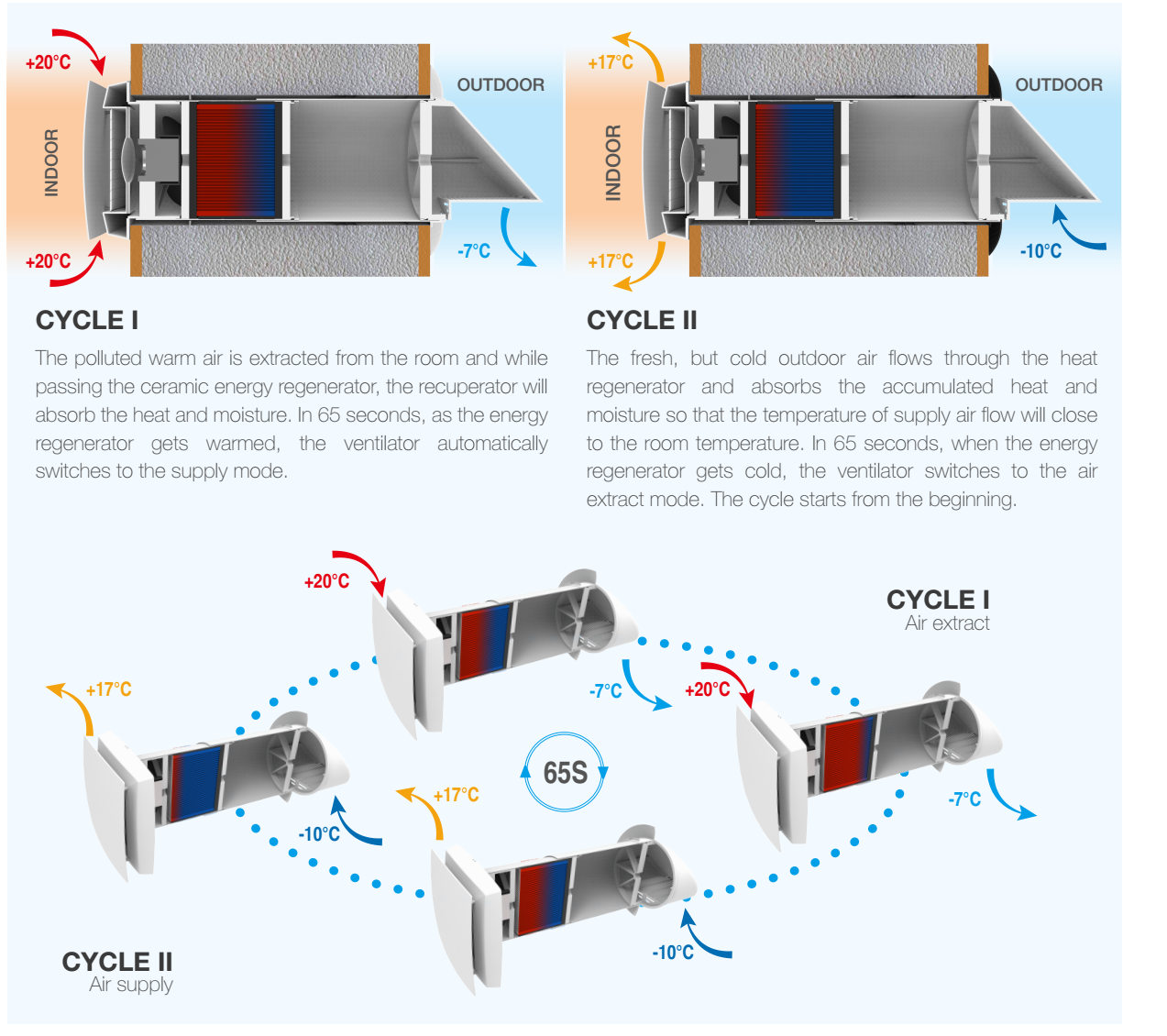 Speification:
| | |
| --- | --- |
| Voltage (V) | 220-240 |
| Frequency (Hz) | 50/60 |
| Input Power (W) | 11 |
| Current (A) | 0.08 |
| RPM | 2000 (max) |
| Airflow (m3/h) L/M/H | 20/42/64 |
| Noise dB(A) | 36.7 |
| Regeneration efficiency (%) | ≤ 92 |
| Ingress protection rating | IP24 |
| Air duct (mm) | φ157 |
| SEC class | A |
| Mounting | WALL MOUNTING |
| Weight(kg) | 6 |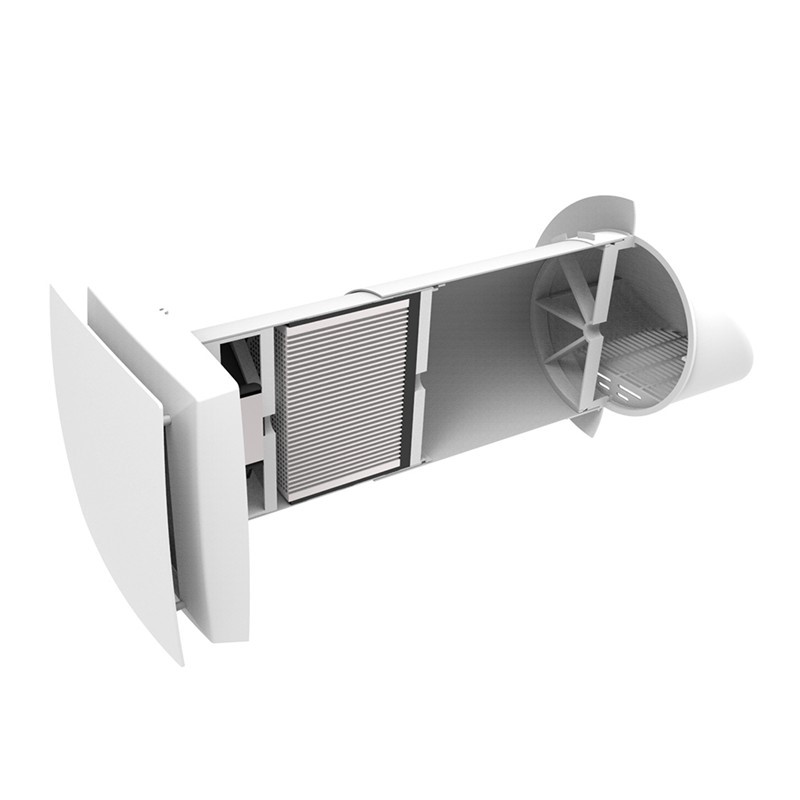 Applications
The ventilator is designed to ensure continuous mechanical air exchange in houses, offices, hotels, cafes, conference halls and other residential and public premises. The ventilator is equipped with a ceramic regenerator that enables supply of fresh filtered air heated by means of extract air heat regeneration. The ventilator is designed for through-the-wall mounting and is rated for non-stop operation. Transported air must not contain any flammable or explosive mixtures, evaporation of chemicals, sticky substances, fibrous materials, coarse dust, soot and oil particles or environments favourable for the formation of hazardous substances (toxic substances, dust, pathogenic germs).
Holtop Factory
Holtop is the leading manufacturer in China specializing in the production of air to air heat recovery equipments. It is dedicated to the research and technology development in the field of heat recovery ventilation and energy saving air handling equipments since 2002. The main products incluses energy recovery ventilator ERV/HRV, air heat exchanger, air handling unit AHU, air purification system. Besides, Holtop also offer turnkey hvac solutions for different industry. Holtop headquarters is located at the foot of Beijing Baiwangshan Mountain, covering area of 30,000 square meters. The manufacturing base is in Beijing's Badaling Economic Development Zone, covering an area of 60 acres, with an annual production capacity of 200,000 units of air heat recovery equipments. Holtop builds a sound certificate system of ISO9001, ISO14001 and OHSAS18001 as well as product certification systems. Moreover, it has a laboratory certified by national authority. As a well-known manufacturer in the field of heat recovery, Holtop has a strong R&D team and possesses dozens of national invention patents, and participated in the compilation work of several national standards, Holtop was also elected as Zhongguancun High-Tech Enterprise.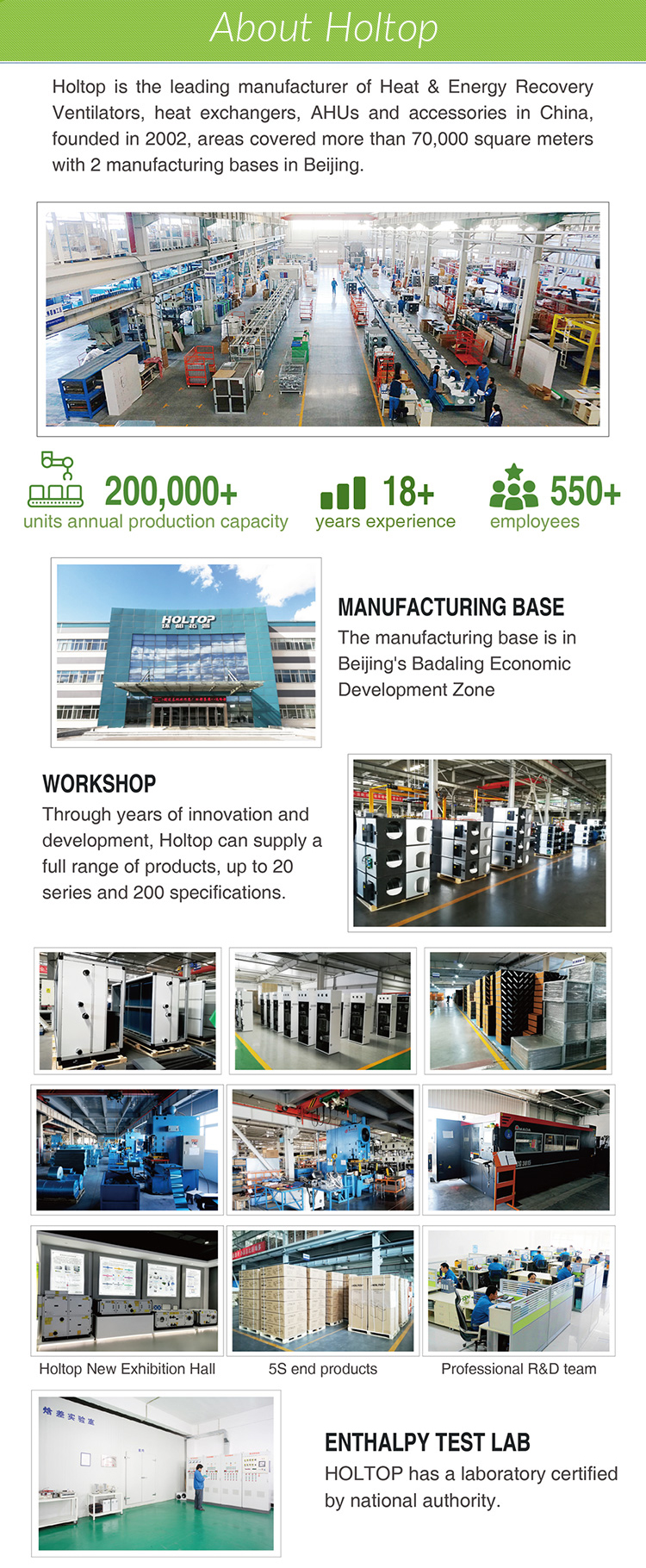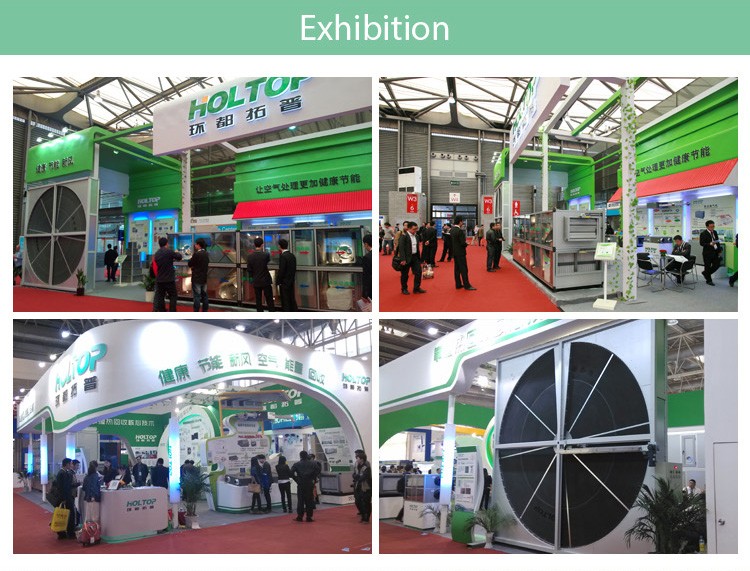 Holtop partner
Holtop cooperate with so many world famous brands, offering OEM /ODM service.